Q Tint offers high quality products from Avery Dennison, Suntek, Rayno and UltraGard. While guaranteed not to bubble, fade or peel, they are all backed with a manufacturer's warranty you can count on. For professional advice – Contact Us Today.
Q TINT HIGH QUALITY WINDOW TINTING PRODUCTS
Avery Dennison window films can effectively filter harmful UV rays and reduce glare and heat. As a result, cooling costs could be cut by up to 20%! They focus on providing effective solutions. This allows their SolarZone window films to provide a high level of energy efficiency. Hanita Pacific also offer a great range of security and safety films. These help to combat against graffiti and break-ins – to increase the resilience of a window due to impact.
Avery Dennisons high performance exterior window film is an industry leader in durability and energy efficiency. Therefore, only the best get the best! As a result, our professional installers have received full certification for the installation of XTRM exterior films. Avery XTRM films are only available exclusively through XTRM-certified installers.
Ask us about their X and XTRM exterior films.
SUNTEK PRODUCTS
SunTek – Architectural | Safety and Security – SunTek offers a full line of window films. Window tinting products to suit the home, office, commercial window film applications. Their flat glass products offer great looks and most of all, outstanding performance features. They provide modern, up to date colours and shades with superior optical clarity.
SunTek will have the perfect product to suit your needs. All SunTek window films are fully backed by an exclusive manufacturer's warranty.
ULTRAGARD PRODUCTS
UltraGard Fusion – Extreme Ceramic | Ultimate Protection – We use premium quality UltraGard automotive films. UltraGard's film range will:
Reject up to 58% of solar energy
Cut up to 85% of infrared heat
Block 99% of UV rays
Increase your car's air conditioning efficiency
Reduce eye strain from annoying glare
Help to hold shattered glass in place in the event of an accident
UltraGard Fusion, in Graphite Black, will provide you with the highest overall heat rejection due to it's nano-ceramic technology. The Fusion range will deliver an enhanced colour tone while maintaining supreme optical clarity. Even in our harsh Queensland sun, it still provides extreme durability. Because of a high quality scratch resistant finish, it is easy care and low maintenance with long lasting protection.
ULTRAGARD GENESIS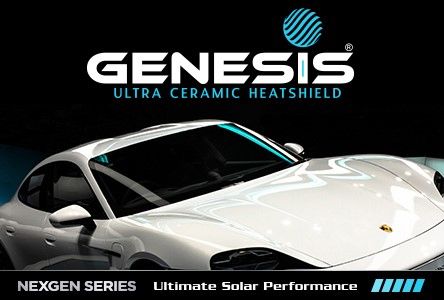 Ultimate Solar Performance
Genesis® is UltraGard's highest performing automotive film option and meet's the demands of Australia's harshest conditions.
Built with next generation ultraceramic nano coating technology, Genesis® selectively blocks infrared and UV radiation while preserving maximum optical vision.
Genesis® offers complete cabin comfort by reducing the sun's intense heat, improving air conditioner efficiency and easing eye strain with true tone glare reduction.
On the outside, the unique ice-cool black shade of Genesis® is presitigiously surperb and looks as good as it performs